Nicholas J Boyd is a self taught artist experimenting with painting and sculpture. His yearning to create began at an early age remembering a burning sensation or internal nagging to want to build or make things, probably inspired by his farther building an optimist sail boat in the car port. This passion did not come into fruition until he entered secondary school where he took woodwork classes, art design and drum lessons. He enrolled briefly into a sculpture class where there were only two students. While engaged in these studies, art as a career for Nicholas was like trying to visualise the bottom of the ocean without having ever been there.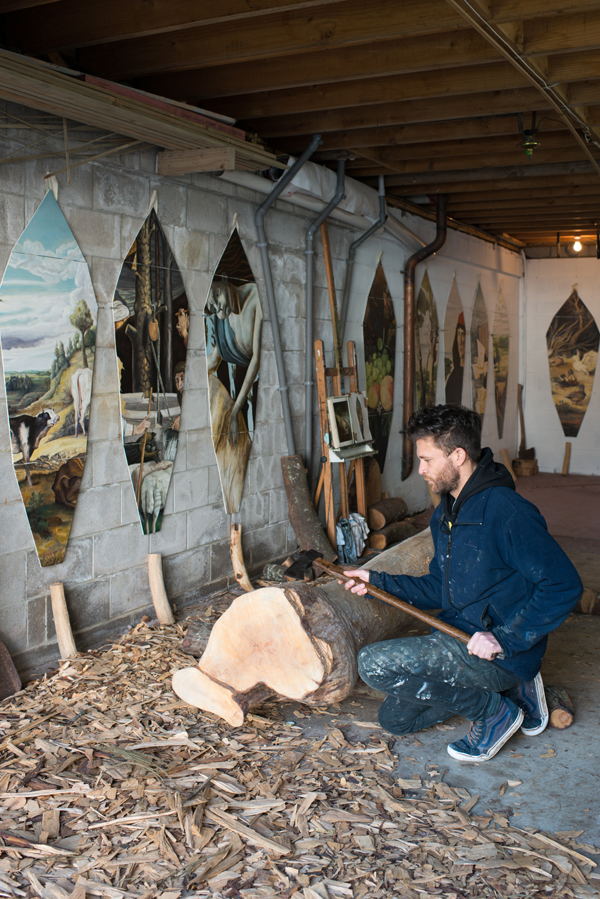 After finishing secondary school he studied half a science degree at Otago University where he engaged in music, sports and general science studies not knowing what he wanted to do with them. After this short stint he returned to Auckland in 2004 where he picked up a paint brush with proper intent. He found Jean Michel Basquiat and became enthralled in his paintings and life storey. While painting on his bedroom floor he completed a Bachelor of Communication studies majoring in Radio from Auckland University of Technology also completing a exchange studies programme to Monterrey, Mexico. Here he was swallowed whole by the vibrancy of the culture, History and aesthetics of the country. He continued to experiment with art while living and travelling there. He then travelled to South America where he experimented with art in every opportunity he had while passing through Chile, Argentina, Peru, Ecuador, Uruguay and Bolivia. When he returned he took up residence at The Cross Street Studios in the heart of K Rd, started by a group of art students. He became involved with the daily runnings of the collective, organising shows in the gallery and switching his focus seriously to oil painting. After graduating Nicholas made the decision to devote all his time to artistic practice.
Cross Street Studios Arts Collective and more recently being a member of The Carwash Gallery/Studio Arts Collective were Nicholas's art schools. Being around other working artists provided him with insight into how and why artists were using their time in their feilds. He helped to organise, curate, hang and manage sales through these collectives. He was able to engage in conversations with other artists, to discuss techniques, to trade ideas and live a life surrounded by creativety and exhibition of art work in all forms.
Nicholas's artistic talents lie in his natural instincts and powers of observation and dedication to the practice and experimentation of his work. Where ever he goes he is scanning the environment and draws in visual or situational stimuli where it remains in his head to smoulder and meld into artistic output. The heart of his work lies in the practice of experimentation as a means to bring forth something that may have never been seen before, to push the boundaries in the realms of artistic creation and to continually learn about the world to ensure self improvement in all aspects of life that lead to a greater understanding of our existence. He is a traveller at heart. Having grown up in Brunei from the age of nine his fascination with learning new cultures and knowledge of the world was ignited there with many family trips to destinations within Asia. Travel and exploration whether it be geographically or in his own mind keeps him motivated to continue to create in knowing that when pushing yourself beyond your boundaries what is around the corner is unknown and the knowledge gained by this exploration will further his artistic endeavours.
Resume
RESUME:
Nicholas J Boyd: Self Taught Artist. Working with oil paint, plaster,wood, poetry and music.
Address: 
Devonport
Auckland, New Zealand.
Website: www.nicholasjboyd.co.nz
Email: This email address is being protected from spambots. You need JavaScript enabled to view it.
Phone: 0226583920
Instagram: @thenicholasjboyd
Cultural Involvements:
Member/Co- Director of The Cross Street Studios Arts Collective, Auckland, NZ. 2008 – 2010
Member/Co-Director of The Carwash Gallery/Studios, Auckland, NZ. 2013-2016
Co-Organiser of Auckland Zinefest 2009 and 2010Dead
Lead hand film Plasterer. Art department. Productions include, Ash vs Evil , Mulan, Lord of the rings TV series, Evil Dead Rise.
Splore Festival arts trail technitian. 
Achievments:
-Winner of Best Zine at Wellington Zinefest 2009 with the zine titled "Chew Gum Bitches"
-Painting purchased and included into renowned New Zealand potter Barry Brickel's Gallery Collection in Coromandel Town, NZ. Personally purchased by Barry Brickel.
- Featured Artist for NZ Sculpture on the Shore 2016
- Toi Tu Toi Ora: Shane Cotton mural, Britomart. Help paint the mural in collaboration with Ross Liew and Rita Vovna
Tertiary Qualifications:
Gained a Bachelor of Communication Studies majoring in Radio from the Auckland Univeristy of Technology (AUT). Graduated in 2008.
Solo Exhibitions:
2011: Painting the Subconcious: The Depot Artspace. Devonport, Auckalnd NZ
2012: For to do Something: Te Karanga Gallery. Krd, Auckland. NZ
2013: Spill to Vibe: Method and Manners Gallery K rd Auckland, NZ
2018: Raw Attitude: Endemic World Gallery, Ponsonby Rd Auckland, NZ
Group Exhibitions:
2006: Two man Show: Poolroom Gallery. Auckland NZ
2007: Treehouse Gallery opening group show: Treehouse Gallery, Queen st Auckland NZ
2008: Make it go away: Cross Street Studios Gallery. Auckland, NZ
2009: Tutti Fruttie: Cross Street Studios Gallery: Auckland, NZ
2010: End of the line: Cross Street Studios Gallery. Auckland, NZ
2011: Beauty meets the Bizzare: The Depot Artspace. Devonport, Auckland NZ
2012: -Gang Bang: Method and Manners Gallery. Krd, Auckland NZ
-We Are Alright: Co Space. Krd, Auckland NZ
-Wild Things, Art for the Imagination of Children: Black Asterisk Gallery, Auckland NZ
2013: -Painterly: Nook Gallery. Ponsonby rd, Auckland NZ
2014: -View: Matchbox Studios. Cuba St, Wellington NZ
-Do You Think it has Legs. Carwash Gallery. K rd, Auckland NZ
-Cut and Run: woodcut print show. Carwash Gallery K rd, Auckland NZ
-Jean: Three man show. Carwash Gallery K rd, Auckland NZ
-Smash and Grab: Carwash Gallery. K rd, Auckland NZ
-Flag it: NZ flag design show. The Depot Art space. Devonport, Auckland NZ
-Flag it: NZ flag design show. No1 Parnell Gallery. Rawene, Northland NZ
2015: -The Driving Force: The Depot Art Space. Devonport, Auckland NZ
-Members Show, 12x12: The Depot Artspace. Devonport, Auckland NZ
-Appalled. Street front window installation: Corner Window gallery. Krd, Auckland NZ
-Wairua: Kings theatre Gallery. Kawakawa, Northland NZ
-The Worst Generation: Photospace Gallery. Wellington Central NZ
-Mairangi Arts Centre Art Award: 2015. Finalist. Auckland NZ
2016: - The Sunsets on K rd: Carwash Gallery. Auckland Central NZ
- Lysaght Watt Trust Art Award: Hawera South Taranaki NZ.
- NZ Sculpture on the Shore: Fort Takapuna, Devonport Auckland.
2017: - Group Show in collaboration with Yonel Watene. Casa Lu Gallery, Tlalpan Mexico City.
2019: - Fresh Produce: Red Bull Studios. Mackelvie Street, Grey Lynn. Auckland
- Three: The Depot Art Space. Devonport, Auckland.
2020: - Central Aucklan: Monster Valley Gallery. K rd, Auckland.
Features and Publications:
2014: -Art News NZ, Autumn issue. Painting featured for free art billboard project.
-Radio New Zealand, Standing room only: Feature on the Carwash Gallery/Studio artists.
http://www.radionz.co.nz/national/programmes/standing-room-only/audio/20142372/the-carwash
-Radio New Zealand: Internet page, Standing room only. Flag it. Featured flag design.
http://www.radionz.co.nz/national/programmes/standing-room-only/galleries/flag-it
-The Vernacularist: Featured artist for the Environmental Issue. Depot Press.
http://issuu.com/depotartspace/docs/the_vernacularist_the_environmental/3?e=10240106/10604655
2015: The Devonport Flagstaff paper: Feature for group art show for march 6th 2015 issue.
http://devonportflagstaff.co.nz/News/Previous+editions/6+March+2015.html
2016: Wok of Art: Artist inclusion into the wok of art Project produced by Tiger Beer. Featured artist in the video below.
https://www.youtube.com/watch?rel=0&v=Ym84S9gHGoY&app=desktop
2016: Weekend Herald (NZ) Saturday April 9th: Feature for Tiger Beer wok of art. Featured Image of the wok.
2016: The Northshore Times: 2nd/8/2016. Featured artist in article about the upcoming Sculpture on the Shore.
2016: http://www.stuff.co.nz/auckland/local-news/north-shore-times/85972768/Outdoors-sculpture-exhibition-takes-a-stand-for-womens-rights?cid=app-iPhone 
2016: Channel Magazine. Featured artist in the November issue for an article on NZ Sculpture on the Shore. 
2016: Promotional video for NZ Sculpture on the Shore 2016. https://www.facebook.com/NZSculptureOnShore/videos/1113749775339487/